SOLD OUT Please order the mailed Lowes as these work great at Lowes and Home Depot.
Home Depot 10% off coupon(s)
Good for up to $200 OFF on an entire purchase at any of Home Depot Sores!
Mailed Cardstock LOWES 10% OFF COUPONS are instock, CLICK HERE for the details. These work great at Home Depot or Lowes.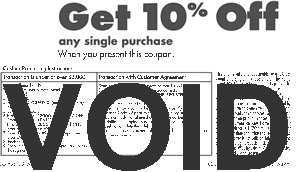 NO EXPIRATION DATE
We offer a 30 day Money Back Guarantee.
If you have any problems, want to mail payment, need a refund or exchange contact us by email: orders@freeroms.com
Will normally be shipped within 24 hours of getting payment. Competitors normally accept these coupons.
Disclaimer: You are paying for my time and effort to send these coupons, and not the actual coupons themselves.
Coupons Fine Print:
This offer is valid and redeemable for a 10% discount on a single purchase only at Home Depot, EXPO ® Design Center, Home Depot Supply, Home Depot Landscape Supply or Home Depot Floor Store ® U.S. stores. This offer is not valid on labor, installations including products furnished by At-Home Services (windows, roofing, siding, HVAC, gift cards or certificates, with any other discounts, or on prior purchases). Do not send with/as payment on any Home Depot credit account. Cash value 1/20th of 1 (cent). Present to cashier at time of purchase to receive your discount. This offer is not valid on John Deere® and selected Maytag ® products, including Neptune ®, Gemini and Wide-by-Side. Void if sold, copied or transferred and where prohibited.
Please select how many Home Depot coupon(s) you would like to order and use the following Secure SSL checkout system to pay with your credit card.
Totals include S&H:
Orders are processed directly on Authorize.net a VISA company.
CLICK HERE to order Emailed Lowes coupons with your credit card if you need them faster.
Mailed CARDSTOCK LOWES PRINTED 10% OFF COUPONS good for $500 off, CLICK HERE for the details.


Emailed LOWES PRINTABLE 10% OFF COUPONS good for $500 off that expires about 6 weeks out, CLICK HERE for the details.


Emailed LOWES PRINTABLE $15 off $50 COUPONS CLICK HERE for the details.